1 in 68 children has been diagnosed with Autism. 1 in 42 boys and 1 in 189 girls. To better understand how girls and boys with autism differ, researchers are actively recruiting more girls into studies.  With fewer girls on the spectrum, not only is there less information about girls with Autism, there might be less opportunity for families of girls to rally together, or at least draw from each other's experiences. Here is a list of some of my favorite blogs written by parents of girls with Autism.
1.Beyond the Dryer Vent


"It's my job, as Little Miss's mother, to encourage her, to celebrate her differences, and to nurture her strengths (even if her primary strength at the moment is making a colossal mess). The first step toward celebrating Little Miss's differences, unfortunately, has to be acceptance"
Jessica shares real-life stories of life with two kids diagnosed with Autism. Her son Graham was diagnoses at 18 months and daughter Tessa when she was 2.
3.Four Plus An Angel Jessica writes about life with her 20 year old daughter, Ashlyn and her younger siblings. "If you are at the beginning of your autism journey the best advice I can give is to be your child's best advocate.  You as the parent know your child better than any expert ever will. And have hope."
Lily's father, Jim writes about "the true life adventures of an autistic little girl, and her big sister." He writes that "obviously Lily's autism comes with all the heartbreaking issues that you might expect, not feeling welcome in places where Lily is "too loud" for others, not feeling comfortable in others' homes because their belongings aren't Lily proof, worries about bullying, worries about the future. But Lily is happy, and Lily is loved, and our goal as Lily's parents, just like every parent's goal for his child, is to help her be the best she can be. . . whatever form that might take."
5.ProfMomEsq  One part teacher. One part detective. One part honey badger. Add coffee, shake vigorously. She says ProfMomEsq was intended it to be "a blog about my random musings, ranging from autism to writing and back again. Now, it's mostly about the journey of raising my autistic daughter."
6.Spouse, Kids And Special Needs Aren't Issued In A Seabag? This navy spouse shares about life with her three children: two on the Autism spectrum and one with ADHD. She shares the unique perspective of military families living with disabilities.
7.Stay At Home Crazy Mom "This blog is for a stay at home mom to vent about parenting, autism, depression, atheism, and other stuff. I have a sarcastic sense of humor and TMI problems. I have a son and a daughter, both on the autism spectrum. I have had depression for as long as I can remember, and mild OCD to go with it, controlled (more or less) with medication. I am addicted to caffeine and crafting, and hate housework."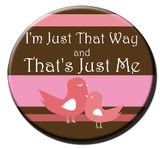 Well, this is actually MY blog! I started out in 2008 writing about how different my life was living in the midwest after having grown up in Los Angeles, but as my life changed to focus on my daughter's Autism, so did the blog! I stopped writing about a year ago, but it's all there in the archives.
---
Dani Gillman is Cofounder and Head of Marketing at Birdhouse– a Detroit-based startup empowering parents raising children with special needs to learn more about their children through a behavior journaling app for iPhone, Android and the web. She's also mom to a 10 year old daughter (who happens to have Autism) and a 1 year old son (who has yet to appreciate the value of naps).